SIP Assist™ and Failover IVR
SIP Assist™ is a service offered by VOICE1, to provide failover trunking and IVR services.
Our SIP Assist™ service when used with your Digium Switchvox, allows you to have peace of mind should your organization experience a hardware failure, or loss of your Primary phone service due to physical outages.
It can also be used to handle higher call volume than your PBX normally could handle over traditional TDM and POTS services.
How it Works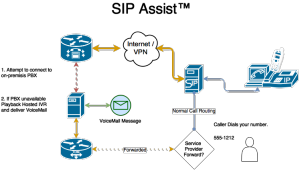 Once you are subscribed to our SIP Assist™ service, you will be giving a new SIP trunk for your IP PBX. SIP Assist™ will work with Digium Switchvox, Asterisk, FreePBX, and any SIP compliant PBX system.
When making an outbound call from your phone system, if your primary routes are unavailable, due to capacity issues, or intermitting services, your PBX will send your call out the SIP Assist™ trunk, allowing you to continue to operate.
If your organization has a hardware failure, physical access restrictions to your phone system, such as a natural disaster, or service provider interruptions, our SIP Assist™ will be answered by our system with a greeting informing your callers that your temporarily unavailable, we then will accept a voicemail message from your caller and email you the voicemail message.
Failover IVR
With our optional Failover IVR, you are able to have a custom greeting uploaded for your callers to listen to, as well as the ability of forwarding calls to up to 5 additional telephone numbers, such as a mobile number. Perfect for when you want to make sure callers are still able to reach a live person in your organization.
Switchvox Rescue
Digium Switchvox offers a similar product line called Switchvox Rescue, which is aimed at providing a failover hosted Switchvox for catastrophic failures, for a limited time. SIP Assist™ is designed to fill in the gaps and is designed to allow for faster deployment. In addition our SIP Assist™ product line is designed to work with any IP based PBX solution, including Asterisk, FreePBX, FreeSWITCH, Mitel, Avaya, and many others.
For a comparison of Switchvox Rescue vs SIP Assist™ download our whitepaper here.