If you have a Digium Switchvox and have been wondering if you can use the new Digium A-Series phones with your existing Switchvox system, then you will want to follow this series of posts.
If you are not familiar with the Digium A-Series phones you can take a quick preview on their site here. Let's start by saying that these phones are not "designed" for Switchvox. That is a nice way of saying that they do not support the Digium Configuration Server that the Digium phones use. They ARE however SIP 2.0 compliant, And that means we can use them just like any other SIP compliant phone.
Pros
The Digium A-Series phones are significantly cheaper than the big brother Digium D-Series phones. And they pack more features and options then the D-Series phones.
Auto Provisioning from HTTP, HTTPS, FTP, or TFTP servers
Internal and external contacts or address books
Advanced BLF Options
Advanced Event Notifications
LLDP / CDP Support
VLAN 802.1p Support
QoS
802.1X Authentication support
VPN Support (L2TP & OpenVPN)
On Device firewall & Web filtering
Many other advanced options as well, a bit too many to list here, but in coming weeks we will be viewing some of them and see how they might apply to your needs.
Cons
All these awesome features come with some down sides, at least when comparing them to the D-Series phones.
No Native phone apps (No visual voicemail, queue stats, etc like the D-Series)
No native provisioning from the Digium Switchvox (we will be addressing this in coming posts)
A lot of options that can be confusing and overwhelming
None of these cons make the device unusable in anyway, and depending on your environment, and needs, they may actually be welcomed functionality.
First Boot
To get started pick an extension on your Digium Switchvox and set a device password under the Common Settings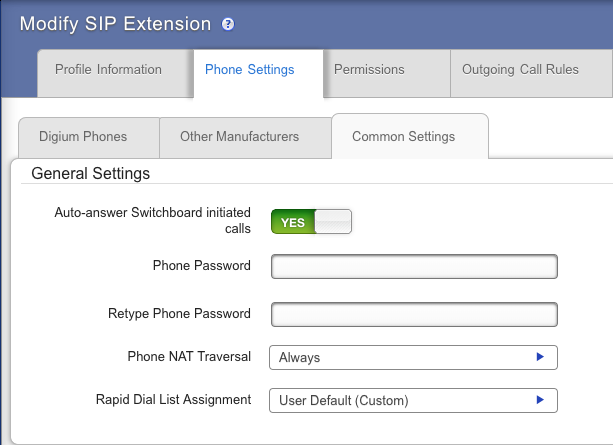 Enter a strong Phone password for the chosen extension. If this extension is already assigned to a physical phone, that phone will have its password changed. To continue testing your A-Series phone, you will need to disconnect any existing phone from your network, so that only the new A-Series phone can connect.
Manual Configuration of A-Series Phone
Once you log into the A-Series phone, navigate to the "Line" label on the left side of the screen. If you have not yet logged into the phone, your default username is admin, and the password is 789.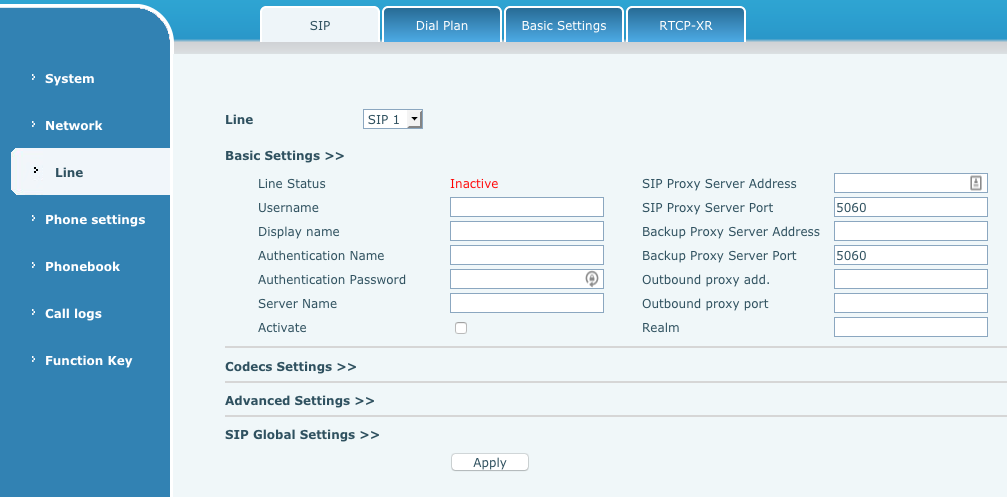 The username and the authentication name are the extension number, the authentication password is what you set earlier. Be sure to add the correct SIP Proxy Server Address to the IP or hostname of your PBX.
Be sure to select the "active" checkbox at the bottom before applying the changes.
That should be enough to get the device to connect to the phone system, and make calls. While your in the admin interface take a look around, at some of the options, and you will see that the device has many options.
Auto Provisioning
In coming posts, we are going to talk about how to provision the A-Series phones automatically. And towards the end of this series of posts we will discuss how to get auto provisioning to work with your Digium Switchvox.
Conclusion
The new Digium A-Series phones are robust cost effective and featureful. The cost point makes them an attractive option, but the lack of support for Digium Configuration Services, makes them more difficult to configure, but not impossible, or impractical. Deploying phones manually is challenging, but the auto provisioning features exist to allow mass deployment of any scale. Need assistance? Drop us a line and one of our team members will be happy to help.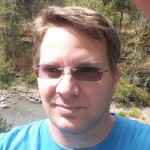 Ben has been building VoIP solutions for over 15 years, has over 25 years of Linux administration experience, and enjoys problem-solving. When he is not coding something in Python, or tinkering with some project, you can often find him wandering through the forests and parks of the Pacific Northwest enjoying waterfalls, trails, and animals.