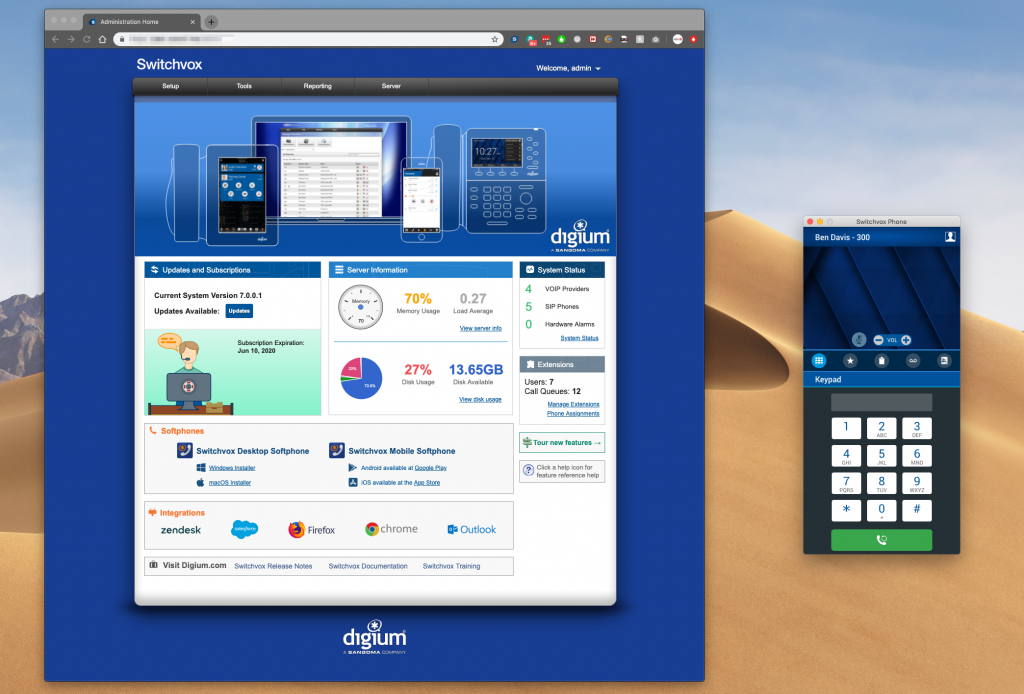 Digium's Switchvox Unified Communication Solutions just got better!
Switchvox already is the best unified communications platform for businesses. And now the Digium team has stepped up to the plate with another powerful feature set that makes Digium Switchvox solutions even better.
Desktop Softphones are here! Thank you Digium! Oh and did we mention the best part?
It's FREE for active licenses. That's right. Any user with an active subscription on your system now only needs a webRTC compliant browser and a USB Headset to start working anywhere.
Setting up teleworkers in the past has been a headache for IT staff. Having to provision computers, deploy phones, headsets, firewall rules, etc. Now, a teleworker can work anywhere with only a WebRTC browser and a USB Headset.
The new Switchvox Desktop Softphone for macOS and Windows is available in Switchvox version 7.1.

The download links for the macOS and Windows apps are available on the home page of the Switchvox Administrator's web suite.

The phone is freely available for use with a Switchvox that holds active Subscriptions. (A user cannot log into the phone when Switchvox holds expired Subscriptions.)

The phone can manage up to 2 calls at a time, and features include Hold, Blind Transfer, Record an active call, Favorites, Call Log, Visual Voicemail, Contacts, and Status.

No More Deskphones!
Sort of… So let's dig in a little more. The Switchvox Desktop Softphone (SDS), is still a version 1. This is actually still listed as Beta at the time of this post, so let's not expect everything to work. But still we can jump up and down with excitement right?
Some of the first things to be aware of is that the Softphone is tied to the users subscription. This means if your switchvox subscriptions have expired, your users will not be able to login to make or receive calls.
This in contrast to a provisioned deskphone, which will continue to work. So for those installations out there that do not maintain a subscriptions and support, this option will require you to maintain an active license at all time.
Most but not all functions.
Most of the basic and best functions are already there. You know like making calls and contacts and voicemail.
The phone can manage up to 2 calls at a time, and features include Hold, Blind Transfer, Record an active call, Favorites, Call Log, Visual Voicemail, Contacts, and Status.
But note the exact wording here. "Blind Transfers" are working.
The phone manages up to 2 calls. If you already have 2 calls, a third incoming call is ignored, so that your Call Rule Actions are followed as if you had not answered the call.
Some features are not included. For example: assisted transfer, transfer to voicemail, dial voicemail, 3-way conference, intercom to the phone.
It appears that select types of transfers between multiple endpoints does not currently work. This will likely be resolved in future releases, however for now, if you require any of the features listed above in your workflow, you will need to deploy a traditional Digium desk phone.
Workarounds
As with any new technology people quickly start to see workarounds to limitations. This is no different here. For example, you could use #slack, or other interoffice messaging system to check if an agent is available before transferring a call.
You can also build IVR extensions that send calls directly to Voicemail, you just need to train your softphone users to dial a different extension.
All users on Switchvox have private conference rooms so you could transfer callers to your own conference room and then join yourself to have a 3 way conference call.
The above workarounds may require users to be trained to use them correctly. Having regular training refreshers can keep everyone up to speed and allows you to deploy new technologies with minimal disruptions.
How to use the softphone
Updating Users Call Rules
Many businesses have users that are on the go, mobile, teleworkers, traveling sales, as well as having a home or office. Set up your call rules to allow ringing both your new softphone, as well as your desk phone.
Create a new call rule like rule 4 below. Be sure to drag it to above the standard call rule.

In the rule above we created a 'Ring All' entry in our call rules, and specified our desk phone, and our softphone. Now when someone calls your extension, you can have your deskphone ring along with your softphone if you have it opened. This has the side advantage of giving you a call popup or notification. Helpful for users that keep the volume set low.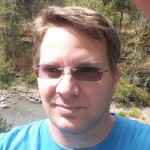 Ben has been building VoIP solutions for over 15 years, has over 25 years of Linux administration experience, and enjoys problem-solving. When he is not coding something in Python, or tinkering with some project, you can often find him wandering through the forests and parks of the Pacific Northwest enjoying waterfalls, trails, and animals.